Learn more about Solutions
Our History
From modest beginnings back in 1993, Landscape Solutions has grown to be Australia & New Zealand's largest and most successful Landscape Company – expanding our operations across the eastern seaboard to meet the needs of a national 'blue-chip' client base.
As positive momentum propels us into a third decade of operation we remain true to our original values of 'an unrelenting focus on customer service'. Our business systems and service models are safeguarded by a Third Party Accreditation to give you the security of a reliable partner who delivers dependable, superior outcomes.
As a client of Landscape Solutions, you will benefit from our genuine commitment to your success and our desire to add value to your business through our landscape services. It's what we believed in from the start – and why we are where we are today.
"Our experiences have always been made even more positive by Landscape Solutions' commitment to safety, quality, programming and client satisfaction."
– Mark Anderson, Lendlease
"I can honestly say that in my seven years at Churchie I have never seen the cricket wicket and sports fields in better condition."
Ian Greg – Anglican Church Grammar
"I have to commend the quality of the workmanship, the friendliness of both internal and external staff and the professional manner in which the projects were carried out."
– Paul Knox, Moreton Bay Regional Council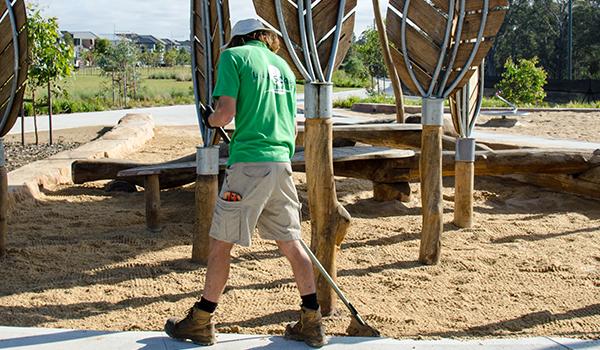 Staff Performance
You'll get a landscape service from people who are focused on your success – our people. Identifiable, ready-to-go and performance-aligned with your company's goals, standards and expectations. Our people take ownership of your assets and strive to create and deliver outcomes that benefit your business as much as ours.
Commitment to Safety
When it comes to Workplace Health and Safety, it's reassuring to know that your business integrity and WHS standards are never compromised. There's no higher priority than the safety of our people, our clients, the general public and the workplace environment that we preside over – our reputation depends on it. Best practice WHS is a vital part of our Integrated Management System and risk management strategy – it safeguards our operations and gives you peace of mind.
Industry Recognition
Our peers voted Landscape Solutions Employer of the Year for our leadership and commitment to our people.
Each year, our Development Team trains and mentors 60 apprentices as part of our People and Performance Program. The program includes the industry's only in-house TAFE course and provides career guidance and opportunities for personal advancement.
Our Commitment
What do most great companies have in common? The answer is great people and… great customers.
Your interests are managed by experienced staff who can meet your demands and know your business. Smart governance and innovative management drive Landscape Solutions, while dedicated staff deliver the services you require.
Environmental Responsibility
As an environmentally responsible business you have a legal duty to meet general environmental protection obligations. Landscape Solutions takes that responsibility very seriously and are constantly seeking to identify and take advantage of new ways of working that will reduce our effect on the environment.
Under our Environmental Management System your business will benefit from our principles of continuous improvement and innovation. We are dedicated to developing our management systems and working practices to conserve resources and minimise our environmental impact.
Quality Assured
We make every effort to ensure you receive services and results of the highest quality – quality you can depend on. For Landscape Solutions, quality assurance means that we're following the documented processes for successful service delivery – no surprises for you, just documented outcomes.
Quality assurance is about confidence. A confidence you'll enjoy knowing that Landscape Solutions is responsible for an ongoing program of quality assurance and improvement and for ensuring our staff and subcontractors understand their individual and collective responsibilities.
0
+
Sports Fields Completed