Parks & Open Space Maintenance
Keeping our communities green
Parks and open spaces have a huge positive benefit on our mental health and wellbeing. Whether it be a gorgeous pathway lined with blooming bushes and other lush greenery, a well-manicured, safe area for kids to run and play in or a carefully constructed outdoor environment for citizens to meet and relax in, these shared spaces play a huge role in bringing together communities around Australia. 
That's why parks and green spaces management is so important. Replacing annuals each year to breathe fresh life into your space; ensuring trees and bushes stay trimmed and healthy; watering garden beds so flowers can bloom their brightest; maintaining high quality fields and turf through watering, seeding and winterising – these are all key aspects of parks management. And our team has the knowledge and ability to take care of it all, keeping your areas warm and welcoming all year round. 
A proven track record of parks maintenance
We've got 25-plus years of experience taking care of park landscape maintenance, with a range of maintenance projects that showcase some of our strengths. We upgraded John Wearn Reserve in Parramatta, Sydney, to accommodate the needs of a growing community with a skate park, playground and dog park and multi-use court. Our team is responsible for the care and maintenance of Cockatoo Island in Sydney Harbour, with extra care given to keeping the UNESCO World Heritage Site safe and welcoming for all. And we helped bring Riverside Green in Southbank, Brisbane, and its more than 6,000 sqm of shared open space to life.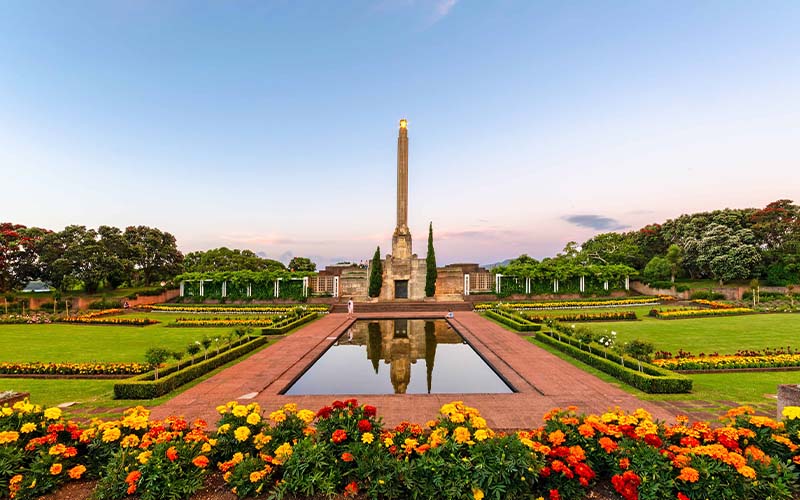 Everything you need to complete your space
In addition to the landscaping and smaller structures that help make public areas inviting to the public, our team can help with bigger pieces of infrastructure that keep your areas safe and thriving for years to come. From wetland construction that transforms areas into welcoming, functional spaces to the buildings that connect your landscapes and hiking trails maintenance that keeps nature paths clear for residents and visitors to enjoy, Landscape Solutions has the experienced team to take care of it all.
Contact us today to learn more about how our open spaces and parks management services can help you serve your community best.
What are your open space needs?
We'd love to start talking with your team and explore your open space needs.
Talk to one of our parks and gardens specialists to get started.
Not sure where to start? Here are some Frequently Asked Questions.
Yes, we offer construction services to upgrade existing parks to meet the needs of growing communities around Australia. We do not currently provide large-scale construction services in New Zealand. 
Adding to an existing park can re-energise your community and offer a new place for kids and adults to meet, play and socialise. From adding a new nature-themed playground to scenic Wangal Reserve to helping create Raging Waters Sydney, (formerly Wet'n'Wild Sydney) we've brought new dimensions to public spaces big and small through our construction expertise and ability. Our services go way beyond city park maintenance.
To get a quote for your park maintenance needs, all you need to do is think about your goals and budget and contact us here at Landscape Solutions.
We're big believers in collaboration. That means we'll be by your side from ideation and design through to project completion and beyond with our continuing park management services. We'll come out and learn about your area and your budget and put together a plan of action together. This way, you'll get maximum value out of our park management services – because they'll suit you and your community's needs.
Yes, rehabilitation can be included as part of a park maintenance project. 
Parks and open spaces often require a lot more than adding fun playgrounds and shade structures for visitors to enjoy. They can also call for extensive wetland and other natural rehabilitation to keep areas safe for years to come, not to mention to preserve the gorgeous surrounding habitat. Our team has extensive experience with park management and conservation, carefully designing projects that take rehabilitation and nature's needs into account. That means you can spend less time worrying about the health and safety of your environment.
Client: Sydney Harbour Federation Trust
The high-profile nature and frequent visitors to Cockatoo Island keeps our maintenance team busy.