The Western Sydney Wanderers Football Club was established in 2012 and continues to go from strength-to-strength in terms of its strong following, team success and community outreach. 'For the people of western Sydney, by the people of western Sydney' is the principle on which the club was founded, making the decision to build an elite sporting facility in Western Sydney a most welcome announcement. This new centre of football would contribute to the future of the sport in NSW, both on a professional and grassroots level.
Landscape Solutions was engaged to construct the fourth and largest stage of the Wanderers Football Park to date. We worked in collaboration with WSW, Blacktown City Council and landscape architect JMD Design to build the state-of-the-art facility. Situated within Blacktown International Sports Park, the project entailed the construction of six elite football fields. Five of these were to be natural turf playing fields, one of which is now a premium field approved for Women's A-League competition games. The sixth field constructed was to be a synthetic field, which is now FIFA-certified.
The project also involved the construction of a 1000-seat grandstand, decorated with club colours. To meet Football NSW requirements, a media box was incorporated into the design of the grandstand. It has a touch screen lighting system, and optic fibre connectivity. Sure to please spectators of all generations, free Wi-Fi is available in the grandstand.
In addition to the above, our construction team built a warm-up field, shared pathways with access for emergency heavy vehicles, installed security and tactical CCTV systems, six-metre-high ball security fences, all sports field lighting towers and pathway lighting. We installed bins, seats, drinking fountains, amenity turf and garden areas.
As the facility sits within the Western Sydney Parklands, monitoring environmental impact was also crucial during construction works. Extreme care was taken throughout the project, with some bush regeneration work completed.
Irrigation and drainage were also key elements to this project, to ensure the health and longevity of the sports surfaces. Our irrigation team delivered specialised sports field drainage, installing pit and pipe stormwater systems, overflow flood land swale, a fully automatic and remote access irrigation system, and a 2-million litre water storage tank.
"The 2-million litre water storage tank is designed to recapture stormwater and run off of excess irrigation water" explains Project Manager, Andrew.
"This tank will serve to back up existing tanks and capture water from a portion of the playing fields during rainfall, along with run off from structures, pavement and landscaped areas."
"Importantly, it will provide WSW with sustainable options for sports field maintenance programs during Sydney's harsher summers and when water is in short supply."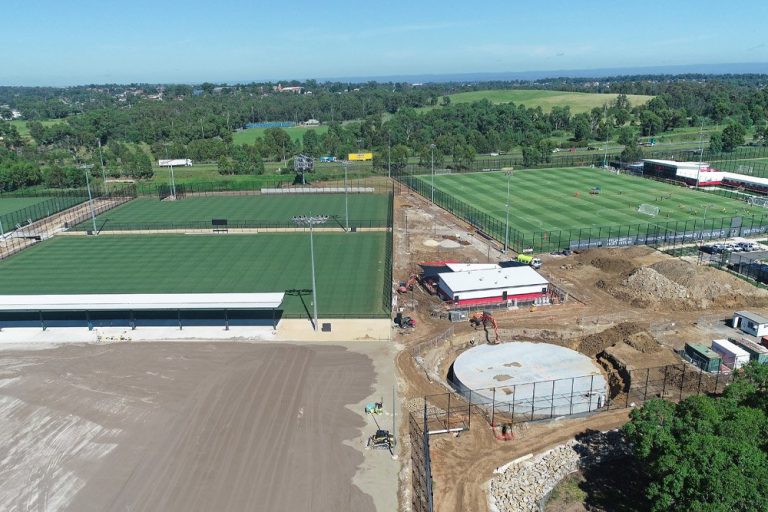 "Wanderers Football Park is the premium football facility in Australia, our Chairman Paul Lederer and our board Jefferson Cheng and Glenn Duncan, invested significantly to provide a world-class training venue for our club and community which provides countless opportunities for our club to continue to grow football in this country at all levels of the game," said Wanderers CEO John Tsatsimas.
"Landscape Solutions delivered this project admirably and we look forward to opening our facility fully in the coming months following the end to our current COVID-19 lockdown."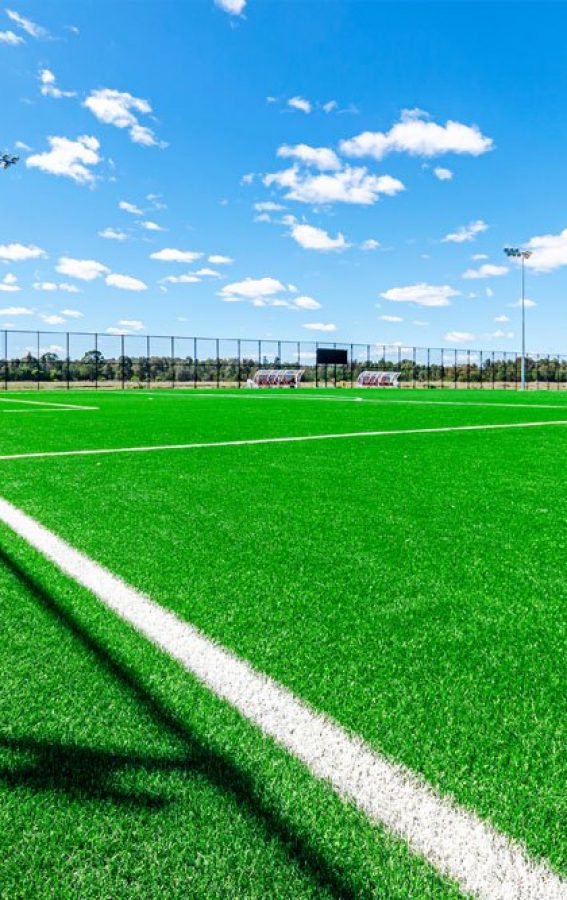 The result of this project is an incredible facility for the club, and for the community of Western Sydney. Our sports turf maintenance team maintained the field, keeping it in top condition before it was handed back to council. 
Indeed, Wanderers Football Park NSW is a testament to the club's dedication to their sport, the development of their players, and the engagement of the community at large.